The Earth was created in 6 days…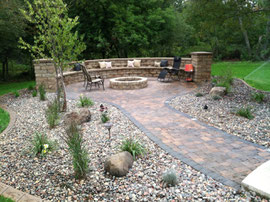 Let's talk landscaping! Zimmerman Home & Garden Center offers landscaping services and products. We can design your next back yard project and install it, without having you lift a finger. 
Landscaping mulch or rock can be used to accent trees or to increase the resale value of your house. We have a selection of Sand, Mulch, Rocks, Gravel and Black Dirt for you to use, beginning in early spring. You can pick it up, or we can deliver it to your house! 
Our Landscaping Services
• Boulder Walls
• Anchor block retaining walls
• Paver Patios & Walkways
• Seeding
• Sodding
• Grading & Excavating
• Shoreline Restoration
• Outdoor Kitchens
• Ponds
• Decks and Pergolas
• Food Plots
• Playgrounds
• Concrete Work
• Underground Utilities Electric, phone and water